The accompanying programme to Tolkien: Maker of Middle-earth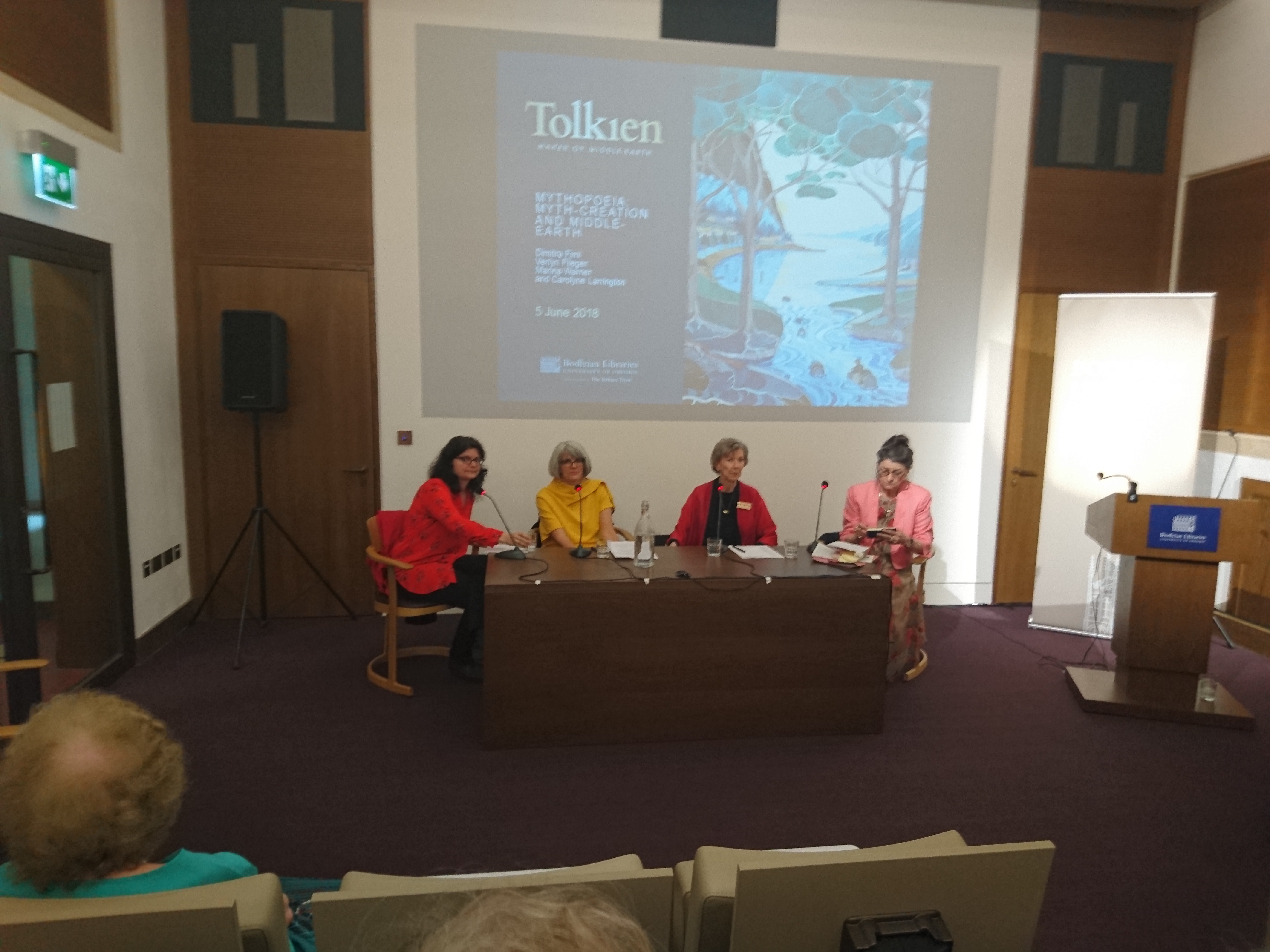 This once in a generation exhibition did not only offer amazing new insights into J.R.R. Tolkien's creativity but also added a first class accompanying programme to further interest in his life and works. Leading scholars in Tolkien research presented their findings; every event was sold out.
---
June 5. Mythopoeia: myth-creation and Middle-earth
A celebration of Tolkien and his creations, with special guests Dame Marina Warner, Prof Verlyn Flieger and Dr Dimitra Fimi.

The panel of guests will consider the origins and the uses of myth-making as a literary genre, the motivation which lay behind Tolkien's own myth creation, and the rise in fantasy literature during his lifetime. Moderator is Professor Carolyne Larrington, Professor of Medieval European Literature, St John's College.
An excellent panel! Link to event.
June 16. Library Lates: Tolkien
Visit the Bodleian after dark to immerse yourself in the medieval inspirations and imaginative world of J.R.R.Tolkien's Middle-earth.

Relax in the café and enjoy live music, mini talks, beer and Beowulf, language tasters, runes and riddles, and much more.
Including fifteen minutes taster talks by Catherine McIlwaine on Curating Tolkien: Maker of Middle-earth, Andrew Higgins on Tolkien's Language Invention, Helen Leith Spencer on Tolkien and Dragons, and Peter Gilliver
on Tolkien and the OED.
Full programme available as pdf.
August 7. Tolkien Pub Quiz
Do you know your Tom Bombadil from your Treebeard, or Fangorn forest from Moria? Get your fellowship together for the one trivia-infused shindig to rule them all: the Bodleian Libraries' Maker of Middle-earth Pub Quiz.
I would have loved to attend this! Link to event.
September 4. Tolkien's turning point: Tolkien and the history of tongues
Tom Shippey's lecture will move from the detail to the (eventual) design of Tolkien's languages, and even the philosophical issues embedded in Tolkien's fiction.

Professionally speaking, Tolkien was a philologist, interested above all in the history and relationships of languages. Personally speaking, he was a self-declared 'niggler', who took immense pains over details. It was a vital moment when he solved a problem, which would have bothered few authors of fantasy, to do with the history and relationship of the languages of Middle-earth. It was this which opened up The Lord of the Rings to its full scale and sweep.
Link to event. Also available as video.
September 8. Oxford Open Doors – Tolkien: Maker of Middle-earth
Celebrate one of Oxford's most extraordinary writers with a day of fun drop-in activities exploring the imaginative and academic worlds of J.R.R.Tolkien.

Drop-in activities for all ages:

Make a rune wheel to decipher secret messages on maps
Meet Anglo-Saxon re-enactors to discover the material culture which inspired Tolkien's Riders of Rohan
Sketch scenes from Middle-earth
Invent your own riddle to baffle Gollum
Write your name in Elvish calligraphy
Learn to speak Old English
Create an Elvish crest badge

Lectures

11am–12.15pm and 3.30pm–4.45pm – 'Bigger than Batman': The BBC's Tolkien in Oxford (1968), by Stuart Lee.

Join Dr Stuart Lee to piece together the story behind the 1968 BBC film, Tolkien in Oxford, and some recently discovered material previously assumed lost. This 45-minute talk will be followed by a screening of the 30-minute film.


2pm – Tolkien's Creation, by John Garth.

What drove Tolkien to create Middle-earth, and why is this achievement so unique? Are there any clues in the tale of divine world-creation that begins his mythology? Biographer John Garth goes in quest of its inspirations and far-reaching meanings.
October 10. Tolkien's medieval languages: Middle English
After the Conquest: English Fights for Survival.

Part of the The Tree of Tongues: Tolkien's medieval languages series.

Speaker: Professor Carolyne Larrington, St John's Oxford
October 12. Tolkien's medieval languages: Medieval Welsh
Tolkien once termed Welsh 'the elder language of the men of Britain'. This talk explores how the sounds and grammar of Welsh captured Tolkien's imagination and are reflected in Sindarin, one of the two major Elvish languages which he created.

Part of the The Tree of Tongues: Tolkien's medieval languages series.

Speaker: Mark Williams, Merton College Oxford
October 17. Tolkien's Medieval Languages: Gothic
Tolkien wrote that he was 'fascinated' with the 'beautiful' Gothic language that he started to study at school, and his literary works attest to this interest. The talk explores the influence of the history of the Goths and Gothic written tradition on Tolkien as a writer and scholar.

Part of the The Tree of Tongues: Tolkien's medieval languages series.

Speaker: Elizabeth Solopova, Christ Church.
October 19. Tolkien's medieval languages: Old English
Old English (Anglo-Saxon) is the early form of English which King Alfred spoke and in which Beowulf is written. As Professor of Anglo-Saxon, Tolkien taught this language, and as a writer he used its literature to inspire his fiction.  However, privately he saw himself as heir to the Old English of Mercia (the modern-day Midlands where he grew up), and he made this the language of the Riders of Rohan in The Lord of the Rings.

Part of the The Tree of Tongues: Tolkien's medieval languages series.

Speaker: Mark Atherton (Regent's Park)
October 24. Tolkien's medieval languages: Old Norse
The language and literature of medieval Scandinavia and Iceland had a profound influence on Tolkien's imagination. This talk will introduce the language through exploring some of the Old Norse sagas, poems and legends which particularly interested Tolkien in his scholarly and creative work.

Part of the The Tree of Tongues: Tolkien's medieval languages series.

Speaker: Eleanor Parker, Brasenose College