Reviews of Tolkien: Maker of Middle-earth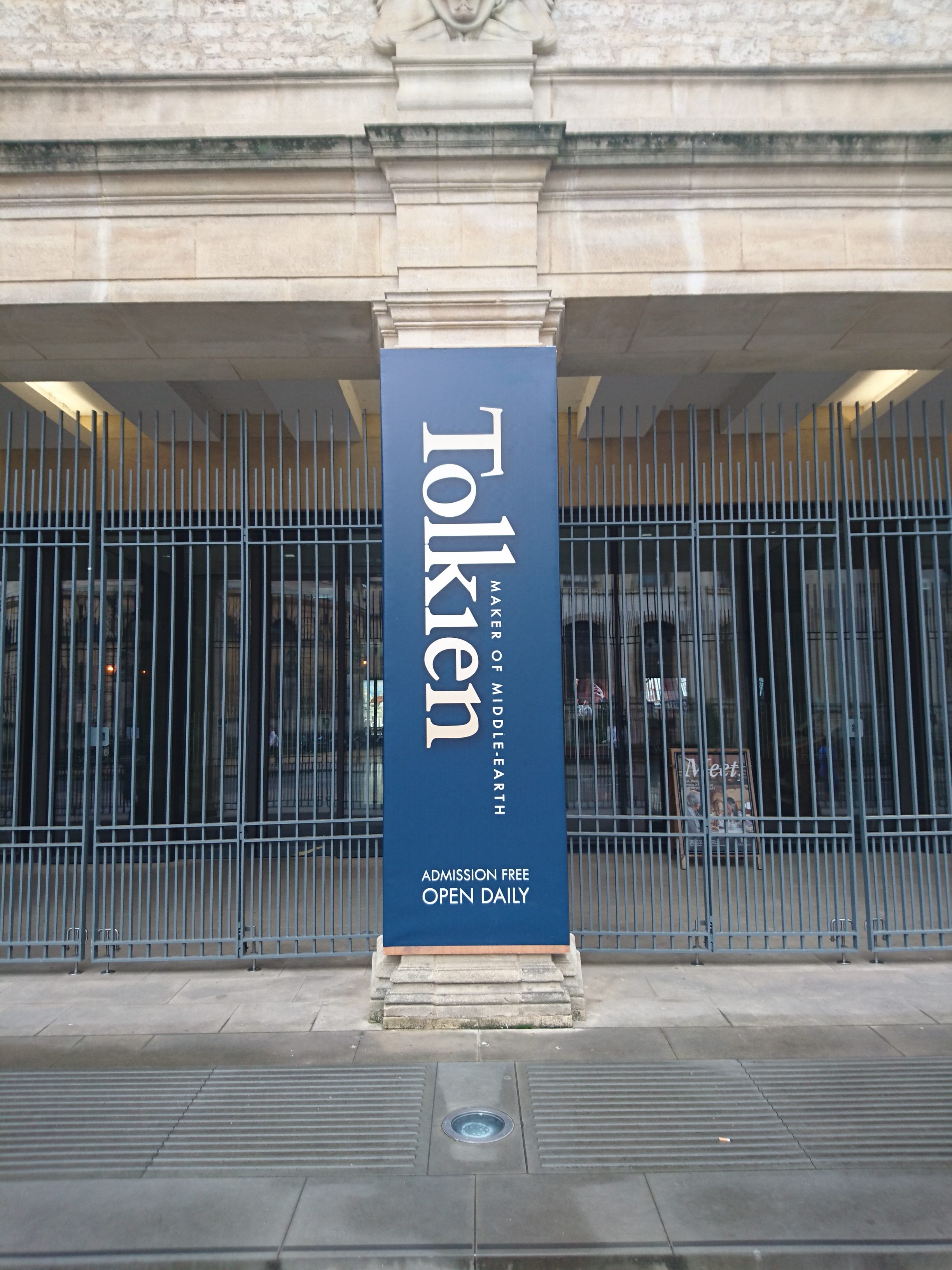 Following the vernissage on May 31st, 2018, the exhibition Tolkien: Maker of Middle-earth generated considerable interest in the media and I'd like to remind you of some of the best ones.
---
How Tolkien created Middle-earth
A rare exhibition of the Hobbit author's life and art reveals an imaginary realm that continues to inspire new generations
"Tolkien was a genius with a unique approach to literature," says Richard Ovenden, Bodley's Librarian at the University of Oxford. "His imagined world was created through a combination of his deep scholarship, his rich imagination and powerful creative talent, and informed by his own lived experiences. We are incredibly proud to hold the Tolkien archive and to be able to share so many previously unseen items in this once-in-a-generation exhibition."
The Guardian, Samantha Shannon, May 31, 2018.
Tolkien: Maker of Middle-Earth, Bodleian Libraries, review: 'A once-in-a-generation event'
From the entry passageway where you step across maps of Middle-earth towards the doors of JRR Tolkien's city of Moria, the Bodleian Libraries' tremendous Tolkien exhibition is an immersive experience.
The Telegraph, John Garth, June 2, 2018.
Exhibition review: Tolkien: Maker of Middle-earth at the Bodleian Libraries, Oxford
An exhibition in Oxford opens the archives to shed new light on the author
There is something magical about maps. They show us the past and the future at the same time, the journeys already taken and the adventures still to come. They provoke memories and fire the imagination. Where shall we go today? X marks the spot. Here be dragons. Terra incognita. All novels should come with a map.
The Times, Patrick Kidd, June 1, 2018.
Middle-earth in colour: How Tolkien drew his fantasy universe
The author of the most influential fantasy novels ever written, The Hobbit and The Lord of the Rings, also created stunning illustrations of his Middle-earth universe. Curator CATHERINE McILWAINE explains the story behind the Bodleian Library's new JRR Tolkien exhibition.
BBC Arts, May 31, 2018.
'Tolkien: Maker of Middle-Earth' Review: Bringing a World to Life
An extensive exhibition of Tolkien's life and work includes the fascinating art—from watercolors to maps—that he made to accompany his tales.
J.R.R. Tolkien's annotations on a recently discovered map reveal that Hobbiton was located at the approximate latitude of Oxford. During the next few months, visitors to "Tolkien: Maker of Middle-Earth" at the Bodleian Libraries' Weston Library of Oxford University can immerse themselves in Tolkien's world through the most extensive exhibition of his life and work since the 1950s.
Wallstreet Journal, Michael FitzGerald, July 30, 2018.
A new exhibition gives us the real Tolkien – not his awful legacy
The Bodleian gives us what we want: the man and the writer
To no one's surprise, the Tolkien: Maker of Middle-earth exhibition at the Bodleian in Oxford, where J.R.R. spent so much of his time, has been a huge success. Were tickets on sale, it would be a sell-out, but the Bodleian has made it free. The visitors book is peppered with observations such as: 'It made me cry with joy… sensationally splendid'.There's also a less hyperbolic view, in a childish hand: 'It was interesting to see how he made The Hobbit and Lord of the Rings.'
Spectator, Melanie McDonagh, July 7, 2018.
The Maker of the Maker of Middle-earth
There's something missing from Oxford's splendid new Tolkien exhibit.
Who was J. R. R. Tolkien? Nearly everyone knows him as the author of two of the most beloved books of the 20th century: The Lord of the Rings and The Hobbit. Many also know him as a member of the Inklings and a close friend of fellow writer and scholar C. S. Lewis. Fewer know Tolkien's work as a literary critic, a world-class academic in medieval literature, a linguist, an inventor of languages, and a visual artist or realize that he was also a devoted husband and father.
Christianity Today, Holly Ordway, August 21, 2018.
The Maker of Middle-earth, in Gorgeous Detail
A traveling exhibit displays the most thorough collection in years of Tolkien's wide-ranging creative gifts.
Tolkien's remarkable achievement was to use the genre of myth to reaffirm — against a culture of doubt and disillusionment — the "permanent things" about our lives, to engage his immense imaginative and artistic gifts to recover ancient truths about the human condition. Though often accused of escapism, no author in the 20th century expressed with greater power (as he once described it) "the beauty and mortality of the world." The Bodleian exhibition richly tells the story of his quest: quickened while a soldier in the Great War; nurtured by his faith, family, and friendships; and deepened through sorrow and consolation. As Tolkien once described his great mythology: "It is written in my life blood."
National Review, Joseph Loconte, August 18, 2018.
Journey to Tolkien's Middle-Earth
These are some of the revealing touches that suggest the nature and personality of Tolkien, but no more so than the artwork and notebooks in which he designed the land of Middle-Earth itself: his concentration on calligraphy, his focus on mapmaking before storytelling, his purposeful use of script to make his own signature and writing look of-a-distant-land. All of these particular flourishes helped build Middle-Earth, a world that is both similar to and different from ours (Hobbiton, Tolkien pointed out on one of his maps, is the approximate latitude of Oxford), and that has allowed readers for decades to experience Middle-Earth as deeply human and yet extraordinarily fantastical and inventive. That is the best fantasy can offer in a nutshell, to allow surprise at the wonder of who and what we are, and what we can create, if we give ourselves the chance.
Fine Books Magazine, A.N. Denvers, ?.
In Focus: The hand-drawn maps from which JRR Tolkien launched Middle-earth
'I wisely started with a map and made the story fit,' JRR Tolkien once wrote. A new exhibition in Oxford – the writer's home for so many years – shows just how true that is, and offers a treasure trove for fans.
'Do not write on this margin' is printed on the top-left-hand corner of a single page torn from a university exam booklet. John Ronald Reuel Tolkien has clearly ignored the instruction, covering both the margin and the rest of the lined sheet with a detailed map in both pencil and black, red and green ink.
Country Life, Michael Murray-Fennell, August 10, 2018.
JRR Tolkien: Bodleian Libraries exhibition exposes author's hidden talents
One of the more surprising objects in the Bodleian Libraries' fascinating exhibition of JRR Tolkien papers and memorabilia, Tolkien: Maker of Middle-Earth, is a letter in 1967 from a young man named Terence Pratchett, expressing admiration for Tolkien's late story Smith of Wootton Major.
Financial Review, Rown Williams, September 7, 2018.
---
Quick intro video from the vernissage
Video from the exhibition and interview with John Garth
---
Robin Ann Reid's review
What follows is a cleaned-up version of notes I scribbled as I went through the exhibit. I spent about two hours there though it felt like no time at all (elven time)! No photography is allowed inside of course, but note-taking was allowed though I think I left nose prints on just about every pane of glass in the exhibit! I was not the only one…
File 770, July 5, 2018.