One exhibition catalogue to rule them all. Tolkien: Maker of Middle-earth by Catherine McIlwaine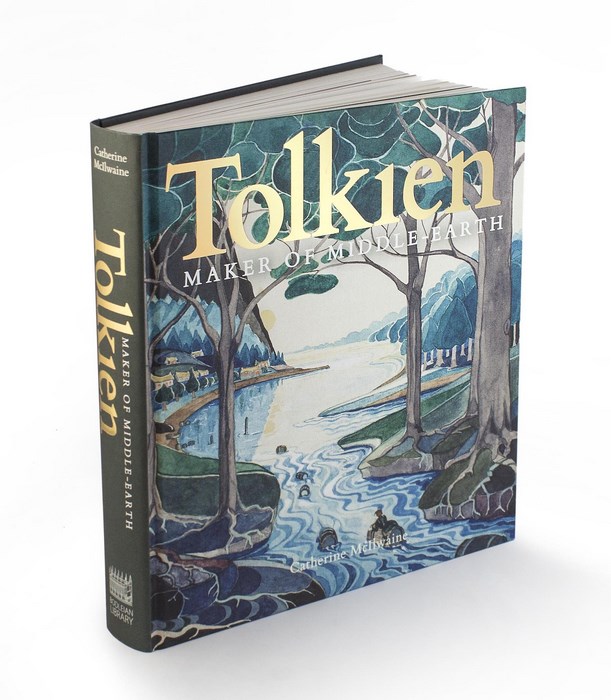 As if the quality of the exhibition weren't enough, the exhibition catalogue put together by Bodleian Libraries curator Catherine McIlwaine is a treasure trove well beyond the contents of the exhibition itself. At more than 400 pages with more than 300 illustrations including 75 images never seen before this is a must have for anyone taking any interest whatsoever in J.R.R. Tolkien's life and works.
---
Tolkien: Maker of Middle-earth, Exhibition catalogue: Content
The book starts out with a foreword by the Bodley's Librarian, Richard Ovenden, and proceeds with six essays:
J. R. R. Tolkien: A Biographical Sketch by Catherine McIlwaine
Catherine McIlwaine is the curator of the exhibition and as such also responsible for the exhibition catalogue, both of which are witness to her outstanding expertise. She is the Tolkien Archivist of the Bodleian Libraries.
Tolkien and the Inklings by John Garth
John Garth is the author of the ground-breaking Tolkien & the Great War, an excellent biography on Tolkien's War Years.
Faerie: Tolkien's Perilous Land by Verlyn Flieger
Verlyn Flieger has been one of the leading Tolkien scholars for several decades; her Splintered Light remains one of the best monographies on Tolkien's creativity to this day; more recently she edited The Story of Kullervo.
Inventing Elvish by Carl F. Hostetter
Carl Hostetter is a key member to the Elvish Linguistic Fellowship and belongs to the small group of people asked by Christopher Tolkien to publish all linguistic materials of his father's inventions; he is editor of Vinyar Tengwar and contributes to Parma Eldalamberon.
Tolkien and 'that noble northern spirit' by Tom Shippey
Tom Shippey has been one of the leading Tolkien scholars for several decades and has, in all probability, single-handedly put Tolkien on the academic map with his The Road to Middle-earth.
Tolkien's Visual Art by Wayne G. Hammond and Christina Scull
Wayne G. Hammond and Christina Scull have been leading Tolkien scholars for decades now, publishing extensively. Her latest updated edition of The J.R.R. Tolkien Companion and Guide is the single most important reference publication on Tolkien.
These essays are followed by the exhibits and items not presented in the exhibition, ordered by their presentation in the cases of the exhibition:
Reading Tolkien: 'to England; to my country'
Childhood: 'born with a talent for language'
Student Days: 'the beginning of the legendarium'
Sheer Invention: 'new patterns of old colours'
The Silmarillion: 'the Silmarils are in my heart'
The Professor's Study: 'from time already mortgaged'
The Hobbit: 'In a hole in the ground there lived a hobbit'
The Lord of the Rings: 'written in my life-blood'
Mapping The Lord of the Rings: 'I wisely started with a map and made the story fit'
If you would like to know the differences between the publication and the catalogue you can refer to this excellent map by Jeremy Edmonds of TolkienGuide.com. Please visit his website for more information if needed.
Exhibition catalogue: Sample pages
Exhibition Catalogue: Reviews
This is a near-perfect collection and an utter delight for those who love Middle-earth. Anyone who has ever raised a glass to the Professor's good name will be delighted by this work. If you have ever wondered what a bookish version of Blu-ray extra content would look like for one of the world's most famous authors, this is it. Recommended. [Starburst Magazine.]

This has really just been a brief glimpse into one awesome and lore-packed book. Tolkien: Maker of Middle-earth is the book beyond the exhibit, which endures even as the other diminishes and sails into the West. It's sure to enrich any fan's appreciation for Tolkien the mortal Man, who despite having left this world has at least left behind another of his own creation. A vast, believable, alien-yet-familiar, and somehow still scarcely inhabited world: Middle-earth, which seems to be half the Earth we know and half an Earth we don't. One that's steeped in Faerie. [Tor.com.]

Tolkien: Maker of Middle-earth aims to demonstrate this link between the evolution of the world of The Hobbit and The Lord of the Rings and the biography of their author (…) The scope of his world was truly vast, and his desire to populate it impressive in itself. More to the point, the paintings are beautiful. [TLS.]

All in all, a treasure-house of images, a perfect gift for yourself or a Tolkien-lover on your list. [Janet Brennan Croft, Mythlore #133.]


All in all, a wealth of material, highly recommended to anyone interested in Tolkien's life and interested in this extended glimpse into how his mind worked as an author (and artist and linguist). [John D. Rateliff.]
Exhibition Catalogue: Prices
Hardback edition: £40.00
Paperback edition: £25.00
Collectors' edition: £295.00.
Additionally: Tolkien Treasures: £12.00.
All prices via the Bodleian Libraries Shop at the time of writing. I am unable to assume any liability for their correctness.