Short series: Tolkien Travel Posters. Meet the Artist: Beverly Arce
It has been ten years to the day that I started the Tolkien Travel Poster series and now I am returning to this with an amazing artist – Beverly Arce.
Read what they have to say on inspirations, being a fantasy fan and where the road may lead them. This is the fourth installment in this series and you can also have a look at Nana Leonti, Austin Purser, and Steve Thomas.
What made you do those posters – and are you a Tolkien (fantasy/scifi) fan?
I am an avid and fantasy/sci fi fan and am deeply connected to Tolkien's work. I first discovered the Hobbit when I was eight years old and it made an incredible impact on me. From there I consumed every piece of Tolkien literature I could find and still regularly revisit/reread over twenty years later.
As for the trigger that compelled me to create the travel series: It was kickstarted by the pandemic.
I was living alone at the time and felt deeply isolated and lonely. Middle earth has always been a safe harbor for me, so I sank back into the world headfirst looking for a distraction from that current state of the world. What started as a one-off illustration gradually turned into a full series of travel posters- each reflecting some of my favorite locations in middle earth- places i wished i could visit rather than being cooped up in stressed loneliness.
At the time, I completed 10 of the illustrations.
After "lockdown" ended, I continued to paint the posters, enjoying the subject matter and encouraged that they touched other people (Tolkien fans and art aficionados alike).
Since then, I have completed the set of 18 (plus one variant)- and am proud to say that all of my LOTR collection is available at the gallery that represents me: Gallery Nucleus.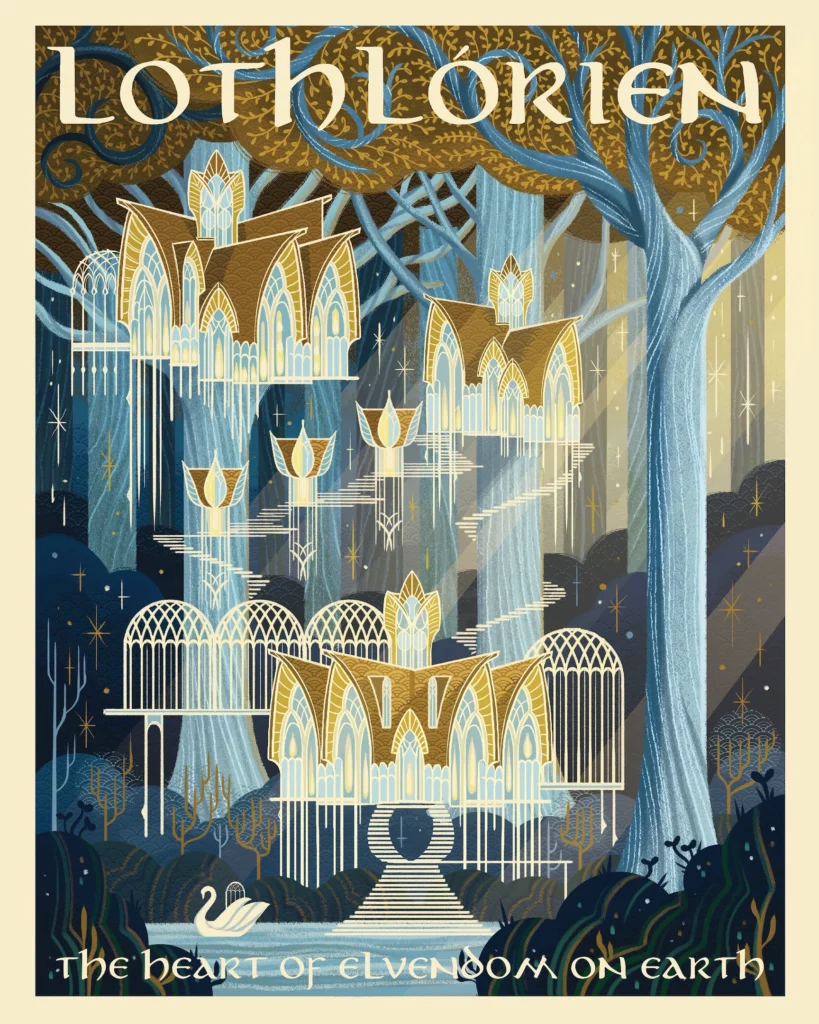 Will you do more in the future?
I can not yet say- I have entertained the idea of doing a Silmarillion specific series, but am in no rush- especially since the LotR collection is so varied. Whatever the case, Middle-earth will always be a kind of home for me, and the travel posters allow me to share that home with others.
Find out more about Beverly's work
If you want to know more about Beverly do visit their portfolio at beverlyarce.carbonmade.com, follow them on Instagram, and buy one of their amazing pieces with Gallery Nucleus.
Artist bio Bev is an illustrator, designer and Visual Development Artist based in Pasadena CA. They have worked with a variety of publishers and studios in both illustration and animation; work credits include: Disney/Marvel Animation, AGBO Films, HarperCollins publishing, Gallery Nucleus, Octopie studios, Lionsgate, and more. They really (really) like LOTR and re-watching 90's anime.
Pictures used by kind permission.