How Bilbo is Frodo, loves his multipass and fights the Alien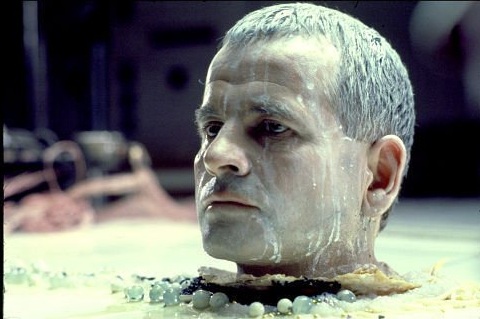 As of today I will start another series on TheTolkienist.com playing on some fun facts readily available in the media and what set me off was Bill Nighy. I'll turn to him in a later article but for today I chose Ian Holm. The idea behind F2M2 (I love silly abbreviations: "Fun Facts on Middle-earth related Media" :)) is that an actor, musician, composer or any other artist had in some way to do with a production based on Tolkien's works – but quite obviously did do other things in his or her life you may not be aware of! I will have a look particularly for connections into the fantasy and science fiction genre to regularly provide for #nerdgasms galore (a term which has proven quite popular in recent years but I used to understand as 'how cool is this? Really? Wow!')
So, in recent years he has been well-known for his roles in The Hobbit film trilogy by Peter Jackson (the first of the films premiered in 2012) where he is credited as Old Bilbo. Now, this is of course true, in a sense, as Young Bilbo is played by Martin Freeman. Holm reprised his role from the Lord of the Rings film trilogy which came out in 2001-2003. Well before that he played a major role in The Fifth Element as Vito Cornelius, a priest who knows about the role the fifth element (and her multipass!) has to play in saving the planet. He also starred in the outstanding and usual Terry Gilliam films, Brazil and Time Bandits. However, how many of you will remember the unusual and frightening portrayal of the android Ash in Alien? I should also mention he took part in the amazingly executed Henry V by Kenneth Branagh and the lovely The Madness of King George but those are only a few of his film engagements – with the BBC he played J.M. Barrie, author of Peter Pan, receiving a BAFTA nomination for this (he did win the BAFTA for Chariots of Fire and The Bofors Gun.)
And although he seems to have taken quite a liking to reprising roles (not only Bilbo but he loved to play Napoleon, Frankenstein or his monster and a lot of Shakespeare) it is his radio play and recorded readings which make me smile over and over again. In 1967 he read Henry V, the Dauphin being read by Sir Ian McKellen (aha, first connection with Gandalf) and this production is available to this very day! And now the best thing of all: In the remarkable BBC radio adapation of The Lord of the Rings of 1981 he is Frodo! Yes, indeed! And that explains the title to this article.
Listen to some narration by Ian Holm for 1066, a Channel 4 mini series (2009) depicting the events unfolding during the Norman Conquest:
And if you want to get an impression how the Radio 4 BBC series of 1981 (adapted by our very lovely Brian Sibley with Michael Bakewell) sounded like – this is the intro music to it. Well worth buying!

Sources: All information taken from Imdb.com (publicly available) and the inofficial Ian Holm fan site (in German only.) All pictures: copyright with their respective owners; picture on YouTube video: charparker77 – Dark Reaper. Audio file taken from Ian Holm official agency profile. A list of some of his roles available as a PDF for download.