Tolkien: Maker of Middle-earth – New York City Edition. How it all started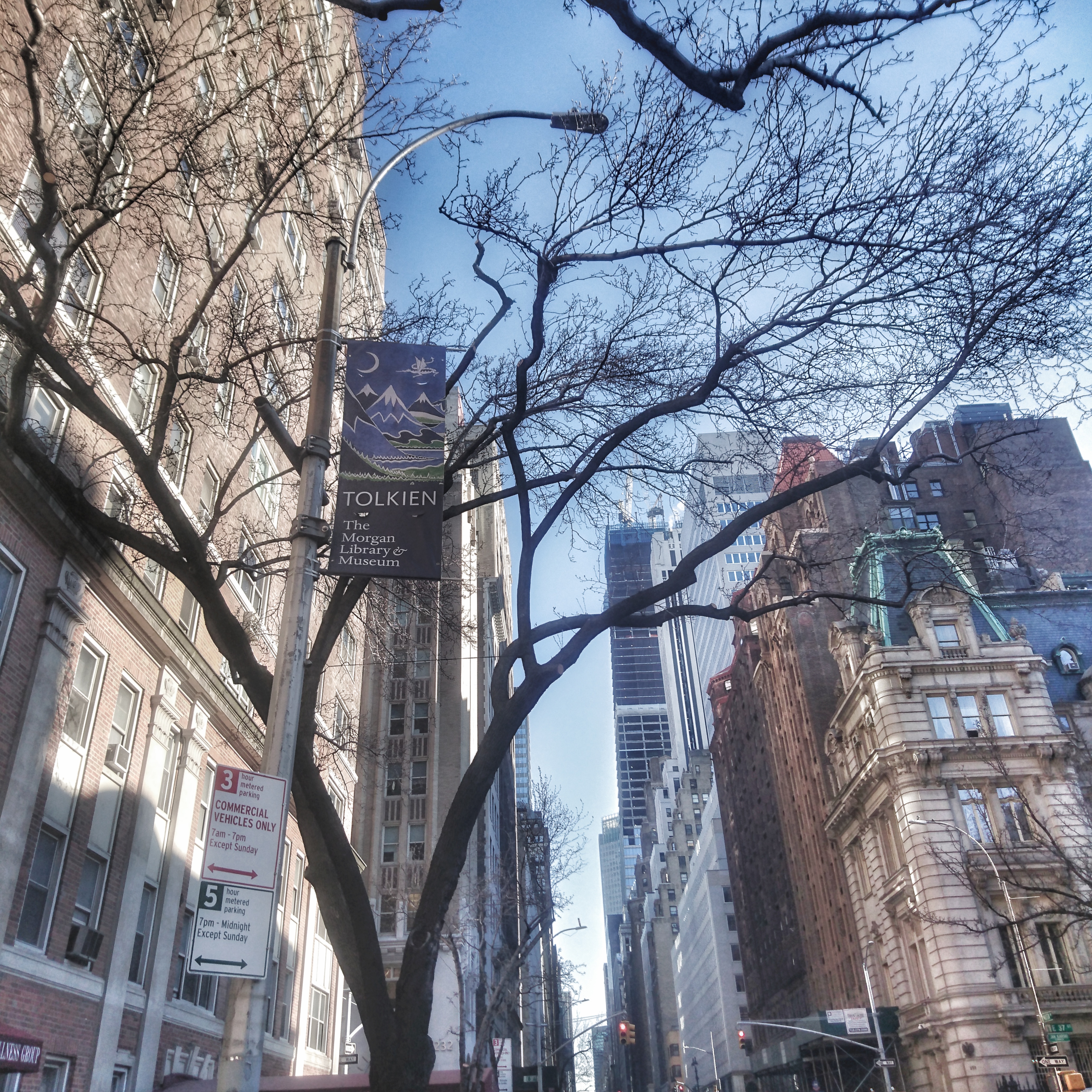 In this short blog post I would love to show you what the fans were told beforehand of Tolkien: Maker of Middle-earth at the Morgan Library & Museum in New York City: the trailers, the sneak peeks and what the media had to say about the upcoming exhibition.
As I mentioned in my article of October 22, 2018, the first time curator Catherine McIlwaine spoke publicly of an upcoming exhibition on Tolkien at the Bodleian Libraries in Oxford was in December 2017. Thanks to the New York Tolkien Weekend of March 16-17, 2019 and Anthony Del Aversano from the Morgan who gave an introductory presentation with the March 17 conference at Baruch College we now know that first contacts were made during the 2014 Marks of Genius: Treasures from the Bodleian Library exhibition. Ventures of such magnitude will take at least three to five years to plan, if not longer. When Tolkien: Maker of Middle-earth premiered in Oxford in May 2019 it became clear very quickly that two additional stays were planned. The first would be at the Morgan Library & Museum in New York City and the second at the Bibliothèque Nationale de la France in Paris.
The Morgan Library & Museum published a trailer on Dec 17, 2018, almost two years to the day Catherine McIlwaine first spoke about Maker of Middle-earth. It comes as no surprise this is the second most successful such publication on YouTube for the Morgan and quite possibly set to take the top spot from a nine year old video. The press release on this exhibition was offered on Dec 14.
Tolkien has come to New York City
One of the first substantial posts to show more about the upcoming exhibition was with My Modern Met. The article titled J.R.R. Tolkien Exhibit Opening in New York Is the "Largest in Generations" gave first ideas about the exhibits and what fans were going to see. Thanks to Shaye Weavers article with AM New York on Tolkien's birthday (Jan 3rd) it was quickly picked up by other news outlets such as Open Culture and even Mental Floss' Emily Pletsko made special mention of it – please pay attention to the numbers given:
In addition to items from the Bodleian Libraries, the Morgan also borrowed works from the Marquette University Libraries in Milwaukee and private lenders. In total, there are 117 items on display. The exhibit typically costs $20, but it's free on Fridays from 7 to 9 p.m.
After the press preview on January 24th more articles appeared such as this one with Artnet.com – I quite like its title:
'Hobbit' Author J.R.R. Tolkien Didn't Just Write About a Magical World—He Painted It, Too. See His Fantastical Artworks Here
In this Vulture post you can hover of Tolkien's map of Middle-earth to get extra information. The organisers of the New York Tolkien Conference offered sneak peeks in this post. However, the best post will probably be the one by Middle-earth News reporter Myla Malinalda. She could snap a few photos of the exhibition room among other press review visitors. This way you could get a better idea of how the exhibition actually looked like. On January 25th, 2019, the exhibition officially opened, running until May 12th, 2019.