Looking back: A Journey through Mirkwood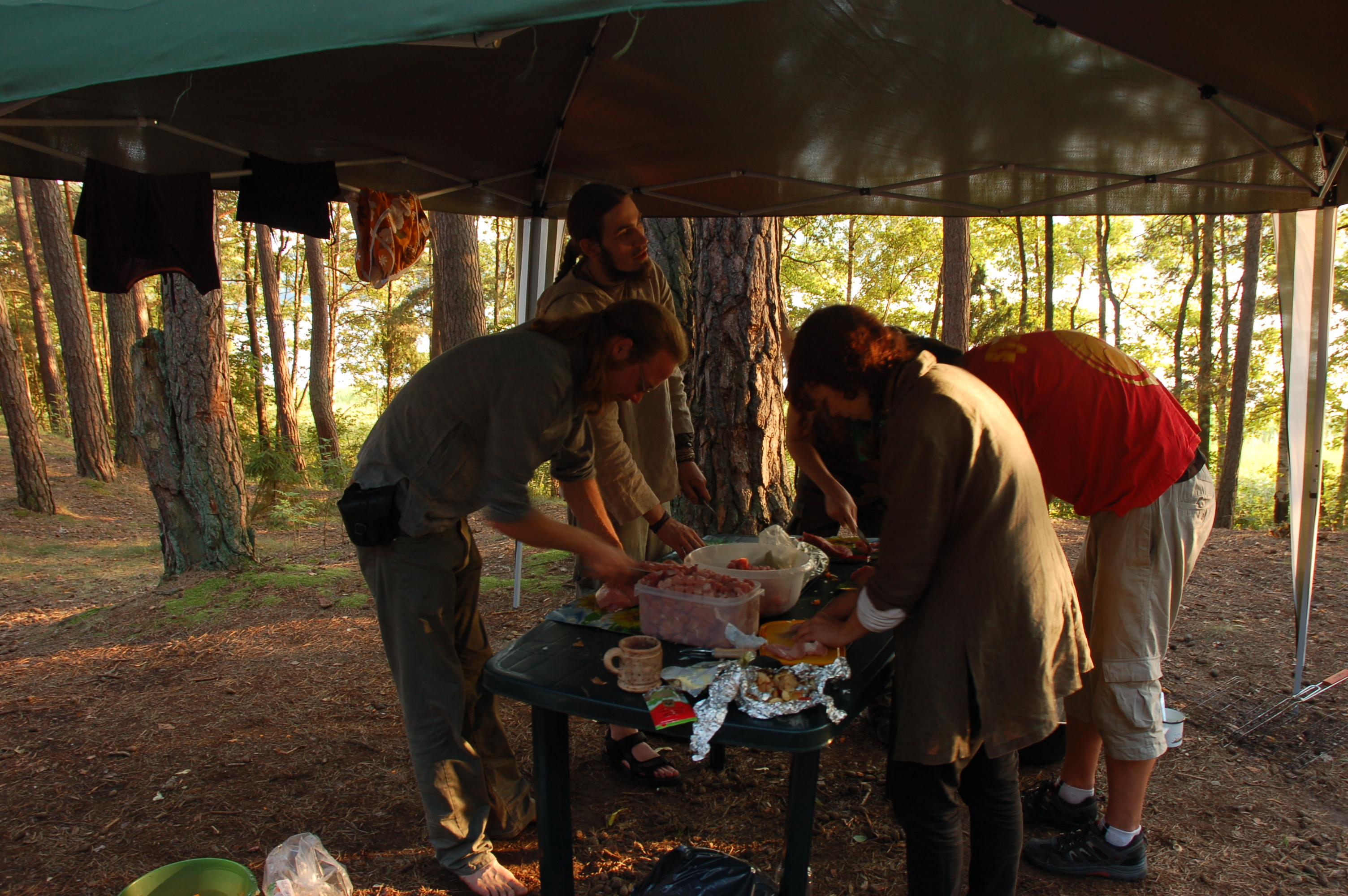 Nine days in Middle-earth (or NE Lithuania)
I am very happy to present you with a report on an unique event which happened last year in Lithuania and particularly so because one of the first societies ever to be introduced here on the Tolkienist was the Lithuanian Tolkien Society. Inspired by the EU-funded project of the Dutch and German Tolkien societies the Lithuanian and Hungarian Tolkien societies teamed up and applied for such funds themselves and were successful. This is what they made of it – my thanks to Kastytis Zubovas who provided me with both text and pictures.
I think that during our expedition through Mirkwood we achieved the ideal that Professor Tolkien sought to disseminate through his works. We enjoyed […] Nature fully; friendships, which I hope shall endure, were bound; human creativity was channelled into artistic forms; and we have learnt to respect and love each other more fully as fellow humans, not to say as fellow Tolkienites.
This quote from Mirkwood traveller Tibor best summarizes what most of us feel about the event. The largest ever event hosted by "Tolkien Lietuva", Journey through Mirkwood was a tremendous success. More than thirty participants – Hungarians and  Lithuanians alike – gathered for a week of travelling, teamwork, new friendships and unforgettable experiences. The whole event was organized with generous funding from the European Commission programme "Youth in Action", as a "Youth Exchange" event.
The adventure began on Friday, the 19th of July, when everyone gathered at a campsite by Lake Luodis, next to the scenic town Salakas in north-eastern Lithuania. Even the first night, after an exhausting 11-hour journey for some of us, everyone willingly participated in setting up the camp, where we were about to stay until Monday morning, and making dinner. Throughout the trip, we made food on campfires; for some of us, this was a rare opportunity to taste such delights. We finished the evening with stories about how each participant discovered Tolkien and what Tolkien-related activities they enjoy.
Saturday was the start of the main programme, with lectures about Lake Town, team games and language practice. After the latter, we decided to keep practising and to use the few Hungarian or Lithuanian words we learned over the next few days. I'm sure it was amusing for our Hungarian friends to hear the Lithuanians trying their best to say "Good morning" or "Thank you" in Hungarian (and vice versa)! On Sunday, we continued a linguistic theme by learning to write tengwar, both Hungarian and Lithuanian modes. Later, we moved on to more physical activities – making prop swords and fighting with them, as well as archery practice. Undaunted by occasional showers and admiring rainbows afterwards, the participants delved into Middle-Earth with untempered enthusiasm.
On Monday, the hiking began. After morning lectures on architecture and heraldry, the travellers packed up and soon left, walking through Salakas to the village of Švedriškė, some 13 kilometres to the south. There, in the courtyard of an old school (and in the school itself), the second camp sprung up, with tents aplenty and fire blazing despite the rain. Most of the evening, however, was spent indoors, painting team flags for the rest of the journey and playing parts of the LotR soundtrack on an old piano. Tuesday's journey brought us into a proper forest of the Aukštaitija National Park. There, on the shores of Lake Utenas, we made camp, listening to talks about the Rangers and discussing our respective societies and how we celebrate Tolkien in our lives.
Wednesday was, once again, a gloomy day, with clouds hiding the sun and rain dripping almost incessantly. In other words, a perfect time to hunt for cobwebs in the forest, trying to figure out the message they were hiding. After that, Lake Tauragnas awaited us, where yet another campsite was made in a matter of minutes. A powerful shower forced everyone to huddle under cover, where we learned Hungarian and Lithuanian songs. Despite the weather, a delicious dinner was served, although only around midnight. A triple rainbow in the evening did a lot to lift the spirits of fellow travellers.
Thursday was the last day of hiking. The morning weather turned out to be slightly better than during most previous days: it stopped raining and occasionally we could even spot the sun through the clouds. Breakfast and packing lasted until midday, but then we left for the last leg of our journey. On our way, we visited Beorn. His role was played by the Museum of Traditional Beekeeping in the village of Stripeikiai. We reached it after some wandering, and even though we were tired, the mood was very cheerful (mostly because we could put down our backpacks and tread lightly on museum grounds). Everyone appreciated a short tour, which gave us knowledge of plants, bees and beekeeping as it was practised hundreds of years ago. After this break, we didn't have long to travel to the final campsite at Lake Almajas.
The weekend spent at Lake Almajas was full of adventures and events that we did not have time to do during the hiking days. Thursday evening was devoted to archery and swordsmanship training and we held tournaments of both activities on Friday. Everyone – both participants and onlookers, some of whom were passers-by and other campers – appreciated the action. On Friday we also made a trip to Ladakalnis, an ancient sacred hill nearby, where we had a chance to learn about ancient Lithuanian beliefs and perform pagan friendship rituals.
On Saturday morning the participants learned about the variety of castles and other fortifications in our world and in Arda. This was followed by the culmination of the journey – the siege of Dol Guldur. This was a three-hour-long game of capture the flag. Four players from each team, using flags the teams made themselves and carried during the hike, attempted to take the other teams' flags and bring them to Dol Guldur, a specially designated area. This the teams managed three times. Afterwards, the participants had to show off their artistic skills in improvising scenes from the Silmarillion and let their creative juices flow writing alliterative poems about adventures in Mirkwood.
That was the end of the programme, so we gathered on a small pier on the lake for a quick wrap-up, some prizes and thank-yous and a group photo. This ended at just the right time for everyone to silently appreciate the sun setting among the trees. In fact, just after we finished the siege of Dol Guldur, the weather suddenly turned much better, as if Mirkwood had become Greenwood the Great once again.
The Hungarians spent this final evening frantically packing their bags. Yet still, everyone found time to talk with their new friends, partake in ancient rituals of bonding, crack a few jokes, fill the forest and the lake with songs, take photos and discuss the future plans. And those were plentiful: international meetings and events, visits to Hungary and to Lithuania, joint projects and so on. Many a good word has been said that night, many a nice wish made, to strengthen friendships, to preserve memories. It was wonderful to see people who just a few days ago were strangers behaving as if they had crossed mountains together.
Around midnight we left for the nearby village of Ginučiai to say farewell to the Hungarians. We probably woke up many villagers with our songs, but they weren't angry and did not descend upon us with pitchforks. We did not say good-byes; merely farewells until we meet again. No one wanted to leave just yet, but sadly, real life had to be attended to. But even as we Lithuanians left the next day, we all knew that in our minds and hearts, we would return to this corner of Aukštaitija, which had turned into a piece of Middle-Earth for these nine unforgettable summer days.
 An adventure turned into a short film
Both societies made short films of this wonderful journey so you can get an even better idea of how things turned out to be.