The Lithuanian Tolkien Society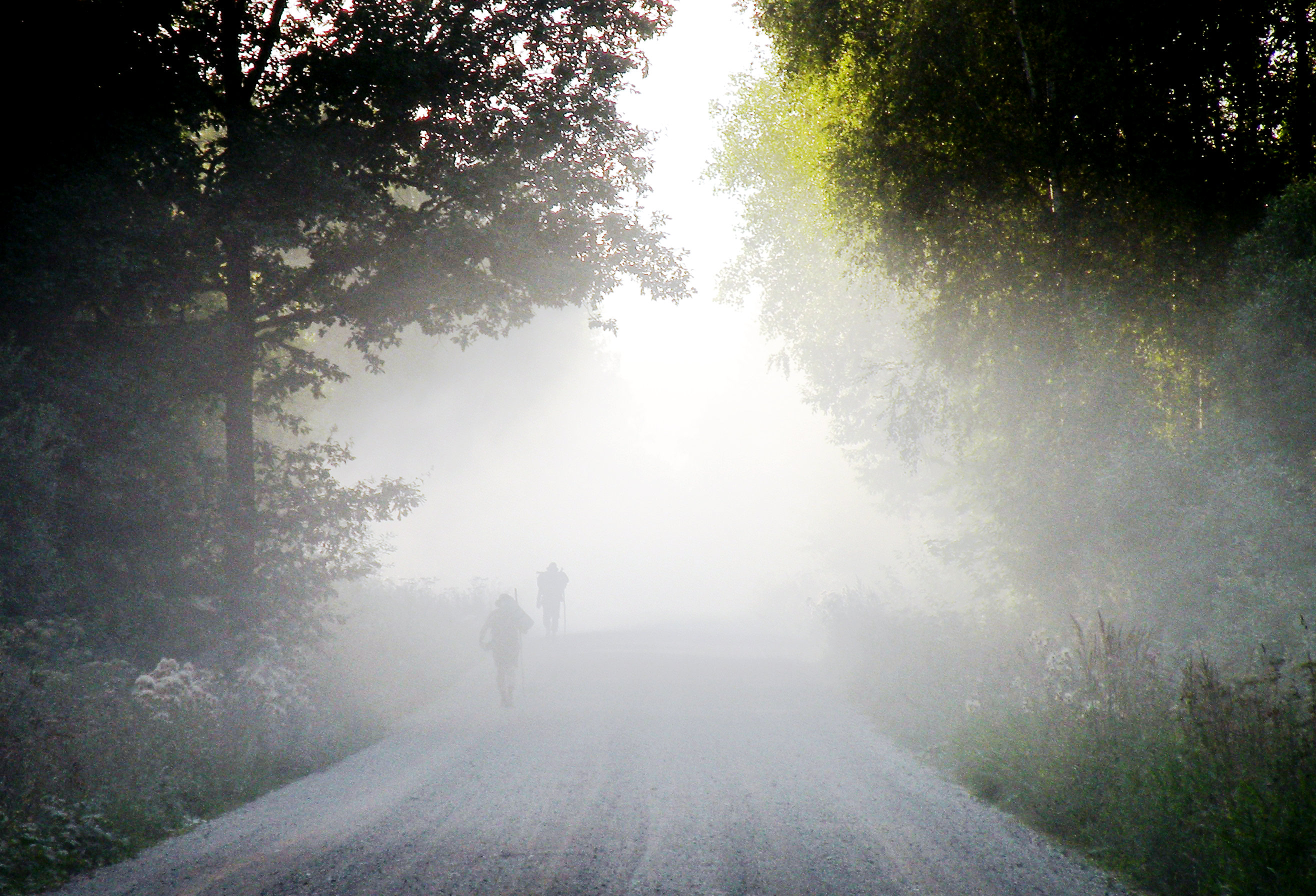 Tolkien fandom in Lithuania and Tolkien Lietuva
The works of J.R.R.Tolkien first came to Lithuania in 1985, the year when The Hobbit was published in Lithuanian. To be sure, 'samizdat' translations such as those that had been circulating in the rest of the Soviet Union must have reached our neck of the woods well before that, however, the 1985 edition was the first official translation. The Lord of the Rings was destined to wait even longer – The Fellowship of the Ring was translated in 1994, by the then high school student named Andrius Tapinas. The other two volumes came in rather later, in 1998 and 2001. 2007 was a big year as, rather unexpectedly, The Children of Húrin were published in Lithuanian. The Silmarillion followed soon, in late 2009, with Tales from the Perilous Realm being released less than a year later.
Year 1995 marked the beginning of the fandom movement as such. The Lithuanian Tolkien Fellowship, founded by Tapinas, organised some successful events, but their Tolkien-related activities soon ceased. For a long time, there were no Tolkienite fellowships, clubs or societies. Not that there were no fans – there must have been quite a lot, and from all walks of life, but they did not form societies.
True insurgence of LotR popularity had to wait until Peter Jackson's movies came around. Tolkien's books experienced a true revival. The Lithuanian translations had to be republished (Return of the King having been released for the first time only months before the first film hit the screens), bookstores now had English editions on their shelves as well as an occasional Silmarillion or some other Tolkien-related book.
In March 2003 the present writer, who had before then spent about a year on an English language Tolkien messageboard, decided it was about time to look for Lithuanian tolkienites. 'Tolkien Lietuva' was chosen as a name for the new messageboard, started on a free site for messageboard novices. After leaving a word here and there, people began to come in. Gradually, random chat turned into more varied conversation, discussions, games, riddles, roleplaying. When a year had passed, the newborn community realised that the pop-up infested free messageboard was getting rather annoying, so everyone was happy to seize an unexpected opportunity and move to a new server in 2004. This was the birthday of the current TL messageboard, however the community counts its years from 2003 and has recently celebrated its 8th birthday.
What started out as an online messageboard soon became a full-fledged community. First meetings 'in real life' were nothing special: we went to LotR film nights, drank ale or tea in pubs, etc. However, March 2004 already marked the beginning of the annual TL Birthday Parties. These have become a tradition, and since New Year was celebrated in Gondor around the same time of the year, late March-early April is a perfect time for everyone old and new to meet and have fun.
August 2004 also witnessed the first "Hike across Lithuania". Since then, every summer the sworn hikers of TL hike for a week or so in some nice region of Lithuania. Torrential downpours, broken compasses, mosquitoes, sore feet, and wet towels have become a must for the "Rangers", who meet for several short hikes each year. Since 2008, members of the "Rangers' Guild" are also trying to learn survival and scouting techniques, learn about the Rangers of the North (and of Ithilien) and are planning to build their own Angle.
The third tradition to be mentioned are tolkienian summercamps. Each camp has its own topic, and of course it is a "proper" camp: we are camping out in the nature, meet around a campfire every evening and enjoy all that the summer can offer. The camp's programme consists of games, workshops, talks, discussions, songs and dancing – all of that in accordance with the camp's theme. The first camp, in 2005, was based on the chapters of FotR where the hobbits travel across the Shire to the wider world. The second camp, and a bigger one it was, was dedicated to Silmarillion. Since there was no Lithuanian translation of the book back then, many Tolkien fans were not familiar with it. That was precisely our task: to tell the most moving of the stories and try to re-live them together. This was done through all kinds of activities, including charades, contests and simple storytelling interspersed with singing. Something similar was done the next year, in 2007. This time the occasion was the 70th anniversary of The Hobbit, so everything in the camp had to do with this book and the hobbits in general. The campers built a raft for a "barrel race", learned to bake lembas, hunted spiders in Mirkwood, and danced a bear dance in Beorn's Hall. The fourth camp in 2008 was set in Númenor and used a marine thematic, while the fifth, in 2009, was centered around Rohan and the rohirrim. In 2010, the camp was aimed at the "general public", and the topic was aptly chosen as "Tolkien for everyone – rookie and veteran".
One reason for having a camp with a broader topic and for a broader audience was that in late 2009, ten TL members founded an official organisation. We had been thinking about it for many years previously and finally agreed that we had enough ideas and potential to put them into practice to warrant the existence of an organisation. So on Bilbo's and Frodo's birthday, that is the 22nd of September, 2009, the founding meeting of "TL Draugija" ("TL Fellowship") took place in quaint cafe in Vilnius.
Among the first activities that TL Draugija organised was the start of regular meetings, "Tolkienizings" (Tolkinėjimai in Lithuanian). These happen usually on the first Thursday of each month. Each meeting has a topic set a few weeks beforehand, and these topics vary from board games to roleplaying to poetry reading to lectures. So far, they have been a great success and will most certainly continue.
The members of Tolkien Lietuva also meet to celebrate the New Year; for casual chats over a cup of tea every now and then (although this has been integrated into "Tolkienizings"); there have even been some skating rink meetings (aptly called Orcs On Ice). Several of the larger events also included LARP games – one set in the early Fourth Age, another in Rohan during the War of the Ring, and so on. During the first couple of years most of the members came from the biggest cities in Lithuania (Vilnius, Kaunas, Panevezys, Siauliai). Recently newcomers from more varied areas started to come in. We do not have a regular meeting place, though we do frequent some spots more often than others. The country is small, so we are able to attend meetings in various corners of it.
Two major events mark our contacts with the broader public. The first happened in May 2009, when we organised a LotR Extended edition movie showing. This, together with some extra activities, took up an entire weekend and brought some 70 people to a wonderful place – the Astronomical observatory in a village near Molėtai, to the north of Vilnius. Later in 2009, the newborn "TL Fellowship" organised a presentation for the Lithuanian translation of the Silmarillion, with songs and stories. Outside the club, TL members have participated in several annual Lithuanian Sci-fi and Fantasy Conventions (Lituanicons) and Humour Conventions (Hucons).
Beside the events, we have some smaller traditions and symbols that hold us together. We write filk songs (that is, create tolkienian lyrics for well-known melodies) and sing them alongside Lithuanian folk songs by the campfire. We planted a JRRT Oak in 2005 – hopefully it will grow into a big tree. There are also the Annals of Tolkien Lietuva, written by our Annalist; the Flags (one used during our gatherings, and one which we always bring to our hikes). For a long time, we used to award the annual Enchanted by the Ring awards, with nine people receiving the titles of the members of the Fellowship of the Ring for a year for various merits: leadership for Aragorn, tending the website for Sam and so on. Unlike many other Tolkien clubs and societies, we don't have a print fanzine; however, all messageboard members receive a newsletter every month, with comments on previous events and information on upcoming ones.
The discussions on the Internet are not as heated as they used to be, but the messageboard is not dying by any means. The upcoming "Hobbit" film is of course a source of gossip and discussion; preparation and comments of various real life events abound. Also, for several years, one of the biggest issues for some members was how Tolkien should be translated into Lithuanian. The LotR translation by Tapinas is, sadly, hasty and even incomplete in places. Discussions of possible improvements, as well as attempts to translate parts of the Silmarillion were undertaken.
The website received two major overhauls in looks and content, and now has articles, reviews, creative writings etc. Thanks to the Internet, we have established some contact with Tolkien fans abroad. The first to find us were the Estonian Tolkien Society. We have met them in the real life as well: TL members have participated in a Tolkien/mediaeval festival in Estonia. We have had some projects with the Latvians too, namely an online debating championship among the teams of the three Baltic States. Contact with other societies – Sweden, UK, Netherlands, etc. – is limited to emails for now, while individual members keep in touch with Tolkien fans in Russia, Poland, Germany and elsewhere.
In sum, Tolkien Lietuva is currently the only active tolkienian club in Lithuania. There are of course individual fans and even small friend groups. Some of them probably have nothing to do with the general sci-fi/fantasy fandom, but most do belong to the latter. For example, the first Great Baltic LARP Game in 2003 was based on Tolkien's world. The LARP GM team "Deti Solnca" ("Children of the Sun" in Russian) are Tolkienites, and they have organised several small games based on Silmarillion.
Right now, the core members of Tolkien Lietuva are university or high school students, mostly in their twenties or late teens. There are some younger, some older people. Not many, all in all – but the country isn't that big either! So for us a camp with a full programme for 20 people is already a good job. Both as an unofficial club and as an official society, TL is very much alive and certainly not planning to go anytime soon.
By Starlin and Laiqualassë
Text taken from http://www.tolkien.lt/?page=fanen, pictures kindly provided by Kastytis Z.