Help me find great Tolkienists on Twitter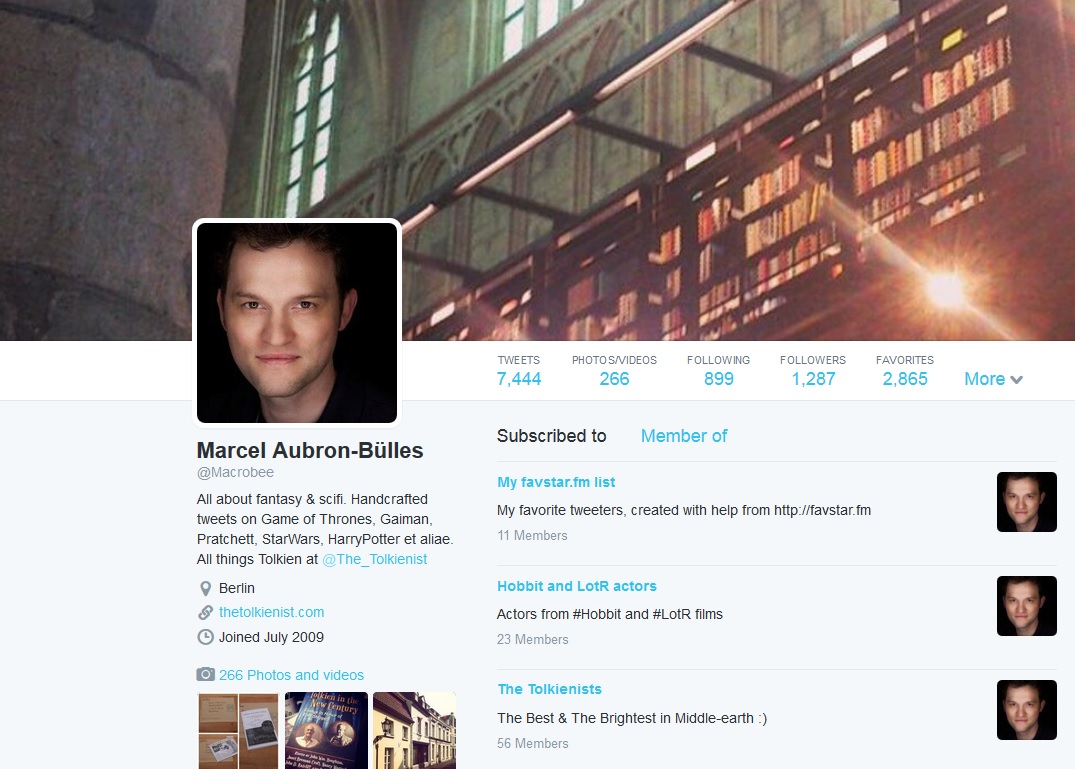 The social media have become the most important channel of spreading the word about almost everything including, of course, all things related to J.R.R. Tolkien and Middle-earth. Help me find great active tweeters spreading the word on events, publications, insightful blog posts and more furthering interest in the life and works of JRRT and other interesting related topics. Use the comment section to let me know who I should add to my Ultimate Tolkienist Twitter List.
Ever since I started this blog it was my intention to promote interest in the life and works of J.R.R. Tolkien, author of The Lord of the Rings, The Hobbit, The Silmarillion and many other stories besides. One thing that is especially important to me is to support your Tolkienist ventures via social media – your society, your regulars' table, your smial or special interest group: If you do something interesting, entertaining, thoughtful or simply fun related to Tolkien's invented worlds and his other works I'll be happy to share it, write about it, interview you… And one of the most important channels obviously is Twitter. So if you are active on Twitter spreading the word on JRRT or know of someone doing just that – help me build the Ultimate Tolkienist Twitter List to let others know about on Follow Friday.
Let people know about great Tolkienists on #FollowFriday
What is Follow Friday? Well, if you want know how not to do it please have a look at this amazing Oatmeal comic strip. Aaron Lee has a pretty good description of how to do it properly: it is about recommending great friends doing something outstandingly interesting and let your followers know about them. And that's what I would like to do with the Tolkienist every friday because let's be honest: With so many things happening all over the world it is sometimes difficult to stay up to date!
In recent months I have been trying to show as many great people as possible but I think it'd be better to actively support upcoming events, publications, ventures with a Tolkienian link to it – and a Twitter list is a great thing to do just that.
Your help is greatly appreciated!
How can you help in building this list?
Easy and simple – use the comment section below to send suggestions you think are great for this list – there is no language barrier, by the way! If you can tell me in English, French or German (or my rather rudimentary) Spanish in a line or two why someone should be included I'll do so! However, please keep in mind this list is supposed to help those who can use the help – societies, smials, individual bloggers, writers. Weta Workshop are amazing but they don't really need our help in spreading the word 🙂
Please do keep in mind I reserve the right not to include someone into the list without explanation. Right now I can't think of anyone off the top of my hat but there is always a lot of work involved with such social media ventures and I can't take the extra time to explain why someone doesn't get to be on the list.
At the time of writing the Tolkienists' twitter list has 56 members. I hope we'll soon have more.