How Gandalf returned to England in a Hobbit film promo poster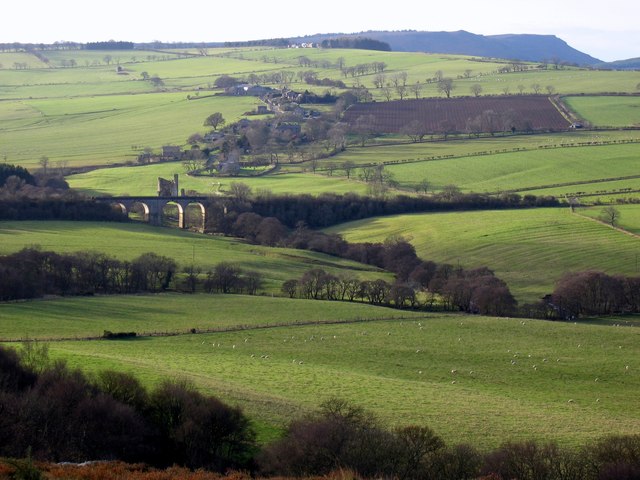 A wizard's backdrop: Corby's Crags, Edlingham castle and a disused railway viaduct
This year will see the end of (another) Tolkien-inspired film trilogy and I thought it might be nice to look back on an overlooked little tidbit which I find very charming. In the last fifteen years much has been made out of New Zealand being the home of Hobbiton, the Shire and beyond (and the tourism industry in NZ is still very, very happy about that) but in truth if you want to find Middle-earth you will have to come back to Tolkien's native England. [And yes, I know he wasn't born in England.]
Which the designers of one of the promo posters for "The Hobbit: An Unexpected Journey" did, probably much to the surprise of everybody else. If you have a close look at the wallpaper below you will see a ruined castle and even a railway viaduct in it. This is a view from Corby's Crags in Northumberland towards Edlingham Castle, not faraway from Alnwick Castle which stood in as Hogwarts as the Guardian noted. So this area of Northumberland seems to be a pretty magical place!
The disused railway viaduct, Edlingham Castle and Village are visible in this view from high up at Corby Crags Rock Shelter. The distinctive skyline of Coe Crags is in the distance.
Picture credits: Gandalf Wallpaper. © Warner Bros. Entertainment Inc. All rights reserved. THE HOBBIT: AN UNEXPECTED JOURNEY and the names of the characters, items, events and places therein are trademarks of The Saul Zaentz Company d/b/a Middle-earth Enterprises under license to New Line Productions, Inc.
Distant view of Edlingham: © Copyright Andrew Curtis and licensed for reuse under this Creative Commons Licence.