How to misappropriate a gardening picture. Enter: Clarence Elliott. Exit: J.R.R. Tolkien.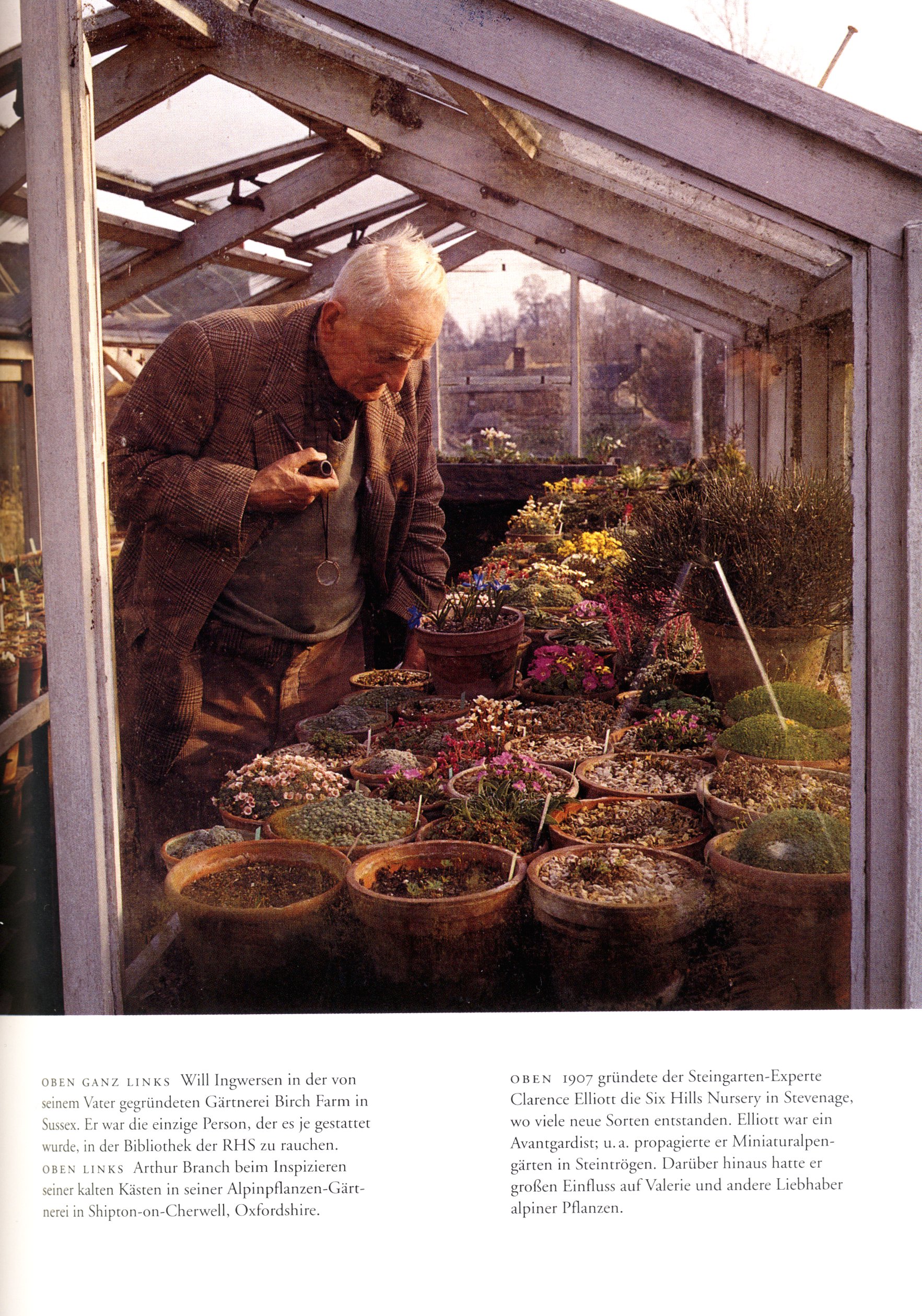 Quite some time ago I noticed a picture of J.R.R. Tolkien in a greenhouse. The Old Man was having his pipe with him and having a look at some lovely potted plants. And me old Tolkienist thought: 'Well, he loved all green and living things so it could well be him, right?' And this particular photo has been resurfacing many times by now on the internet and more recently a request from an Ukrainian lady in a Facebook group on Christopher Tolkien made me think of it again – and write this article [hints: as far as I know, he never wore a monocle, his 'crest had long since fallen' at this stage in his life and the family did not have a greenhouse of this size in their garden.]
I happened to stumble over this picture and a name about six months ago – Valerie Finnis. I quickly found out Valerie Finnis was an outstanding gardener and garden photographer in the UK and that the picture in question had been taken out of Garden People, a book published by Thames & Hudson, written by Ursula Buchan. Its Amazon description is quite evocative:
Roald Dahl and his family in their garden at Great Missenden; Nancy Lancaster, society hostess and interior designer, sporting an elegant straw sombrero and snipping delicately at her roses; Vita Sackville-West at Sissinghurst – these and many other dedicated gardeners are captured here by the discerning eye of Valerie Finnis. This photographic record of the postwar English gardening scene by one of the people at its epicentre will be devoured by anyone with a love of British gardens or horticulture in general.
I loaned it from my local library and found it to be a most entertaining read – without me being a horticulturalist, photographer or English! Tim Walker wrote in The Independent of July 23rd, 2007, that this is one of 'The Ten Best Coffee Table Books' published in 2007 and I wholeheartedly agree.
However, what does this have to do with J.R.R. Tolkien?
It is the same story everywhere you look: people will try to make a connection with a celebrity and/or star, either for respectful or nefarious reasons. In this case it will very often be wishful thinking in considering this elderly gentleman to be JRRT. Proof of this?
A tweet from Corsair Books; Wallace Gardens had the wrong appropriation but thanks to my research and contact to the author of Garden People, Ursula Buchan, this has been remedied – unfortunately, this has spawned dozens of follow-up links which will probably never be corrected – and even led the New York Botanical Garden to use the wrong name. The only thing I can do is post this article and spread it around the web for people to know this man is Clarence Elliott, 'a famous English alpine nurseryman' and founding member to the Alpine Garden Society.
Now, there actually are two possible links if you really are looking for them: Tolkien did a tour of Switzerland as a young man (seeing alpine plants there, obviously) where a postcard by Josef Madlener was inspiration for Gandalf, the Grey – and Roald Dahl, published by Allen and Unwin – Tolkien's publishing house -, may have met JRRT and therefore Valerie Finnis when taking pictures of Rayner Unwin's beautiful house and garden.
The German publisher, Gerstenberg Verlag, kindly allowed me to post this scan of the German edition of Garden People: Als die Gärtner Tweed trugen.
This first article is the start of my on-going series Things Tolkien has never said, done, written or had anything to do with.
UPDATE, March 1st, 2013: Just to show you how difficult any statement on Tolkien can be I would like to give you two quotes from two of the most influential books on Tolkien, Humphrey Carpenter's J.R.R. Tolkien: A Biography and Christina Scull and Wayne Hammond's The J.R.R. Tolkien Companion and Guide/ Reader's Guide. I had mentioned Josef Madlener above, thinking of this paragraph in the biography:
Before setting off on the return journey to England, Tolkien bought some picture postcards. Among them was a reproduction of a painting by a German artist, J. Madlener. It is called Der Berggeist, the mountain spirit, and it shows an old man sitting on a rock under a pine tree. He has a white beard and wears a wide-brimmed round hat and a long cloak. He is talking to a white fawn that is nuzzling his upturned hands, and he has a humorous but compassionate expression; there is a glimpse of rocky mountains in the distance. Tolkien preserved this postcard carefully, and long afterwards he wrote on the paper cover in which he kept it: 'Origin of Gandalf.' Carpenter, Biography, p. 59 of the HarperCollins 1995 paperback edition.
However, many years after Carpenter's research another researcher found this:
Humphrey Carpenter describes this postcard in Biography, misspelling the artist's name, and stated as fact that Tolkien bought the postcard during his visit to Switzerland in 1911. But when Manfred Zimmermann contacted the artist's daughter, he learned that the picture was not painted before 1925-6, and that 'a postcard version of Der Berggeist was published in the late twenties by Ackermann Verlag München, in a folder with three or four similar pictures with motifs drawn from German mythology …' ('The Origin of Gandalf and Josef Madlener', Mythlore 23, no. 4, whole no. 34 (Winter 1983), pp. 22). As Zimmermann points out, this later dating suggests that the postcard came into Tolkien's hands at about the same time he began to write. *The Hobbit. Scull/Hammond, Reader's Guide, p. 572, entry Madlener, Josef.
My thanks go to Tobias Wolf for reminding me of this slip in Carpenter's Biography.