Middle-earth Marketing: How to brand your product the Tolkien way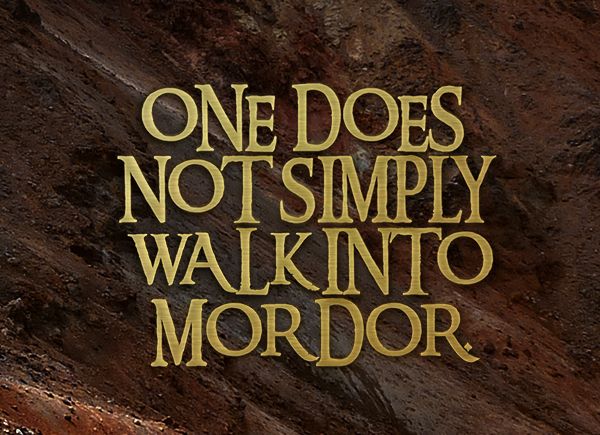 About three months ago Valerio Amaro published a new tumblr by the name of "One Ad to Rule Them All". The short introduction to this tumblr stated: "I am a student at Miami Ad School Berlin. I have two passions in life: advertising and The Lord of the Rings." More than reason enough to ask Valerio about this!
I wanted to find a way to combine my two passions in life, so I asked myself:
"What would happen if J.R.R Tolkien worked in advertising?"
Could you say a few things about yourself and your studies/ professional background?
My name is Valerio, I'm 23 and I'm an Italian advertising student. I became interested in advertising right after I got out of high school and I studied art direction at IED Milan. After that I felt like I wanted to explore a little bit more before getting a job and applied to Miami Ad School. I still have 9 months left before I graduate but i already feel it was one of the best decisions I ever took. I get to experience what the advertising world is like outside Italy, and not only in Germany, as right now I'm interning in an ad agency in London.
You are obviously a Tolkien fan. How did you get to know Tolkien and what do you like most about him and his works?
I am one of those people who watched the movies before I read the books. I was 11 when the first movie came out and it was love at first sight. I read The Hobbit shortly after that, but I waited a little to read The Lord of the Rings. (As much as I loved the movie, I didn't feel like reading all those pages!) When I finally did read it, I appreciated Tolkien's work even more. The world that he created, so curated in every little detail made me realize that there's nothing that can stop human imagination and creativity.
Your ads take range from luxury items over sports shoes and cars to stuff you could get at the pharmacy to software. What inspired you to use those quotes? Wouldn't it have been easier to use existing brands like Bree, Rohan, Palantir, Gandalf Airlines?
The whole project started out as some sort of inside joke with my classmates. We had a Headlines class at school and, of course, being a person who quotes The Lord of the Rings a lot, I tried somehow to stick them in. The Land Rover ad was the first one. After that I continued because it was just fun to try to find other brands that could fit with the quotes. I had a blast!
Can we expect more ads inspired by Middle-earth from you? Or maybe from other fantasy worlds like Narnia, Hogwarts, Westeros?
Definitively! All the nice comments from the people who shared it really motivated me to keep going. And most importantly I have lots of fun doing it!
A bit off-topic but still connected – what do you think about the recent brouhaha from Air New Zealand's most recent flight safety video from a professional point of view?
I love it! All the media coverage that the video got proves that they did a really good job, and above all I think it must have been really fun to write and shoot!
Addendum This tumblr seems to have been of help to Valerio; at the time of writing he is working for Ogilvy Germany and is one of their award-nominated art directors. Sept 28, 2022.