Meet fellow Patreons: Radio Rivendell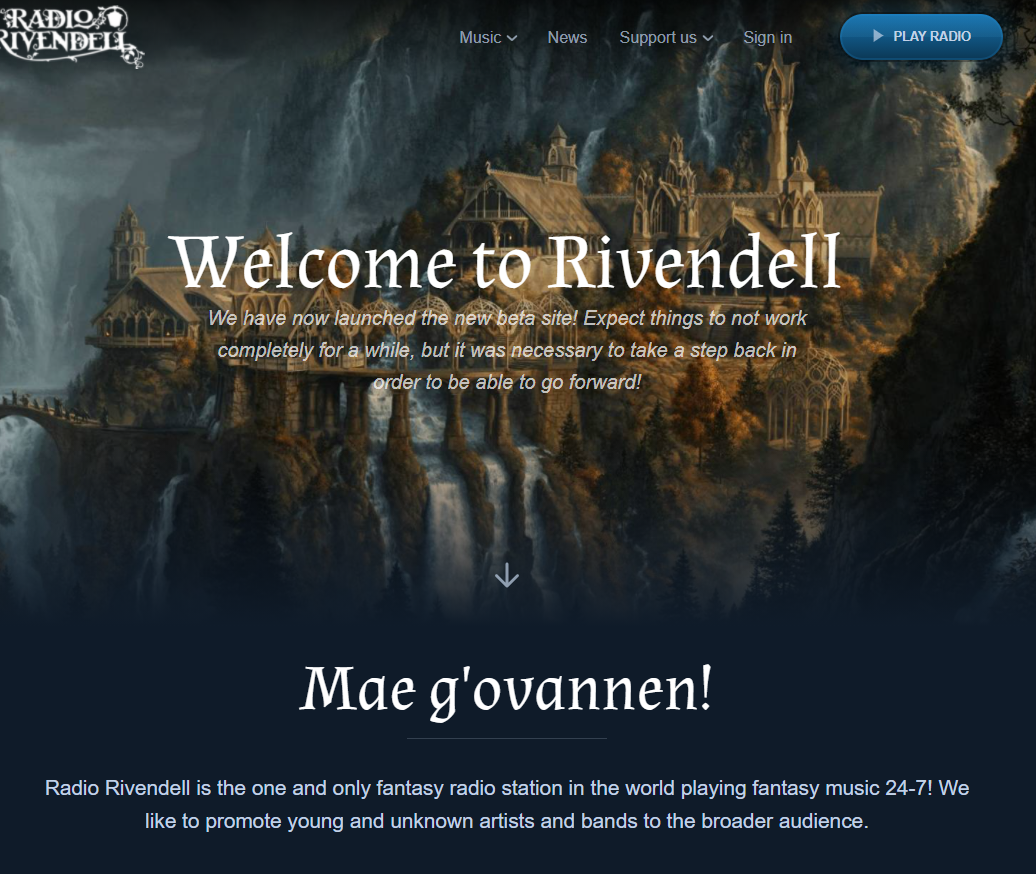 I had been willing to start another little project and that is promoting fellow Patreons with a love for Middle-earth. They are going to be asked the Fëanorian Five Questions – truly tough ones! *g*
"Radio Rivendell is a non-commercial, non-profiting European web radio station dedicated to playing the best fantasy music there is. 24 hours a day, all year around!
We're also a great resource for smaller bands and composers to showcase their fantasy music to the world. We've been online since 2001 when we started. Radio Rivendell was formed from a litte hobby project but has grown to be so much more. Over the years we've added forums, voting and commenting functionality as well as released our own compilation CDs! We've also switched our focus from playing the standard film and TV soundtracks to the indiependent community where we play music from many composers from all over the world. The donations we receive are used to pay for hardware, software, domain costs and CDs. There is no real profit in the station, everything goes back to the station and its listeners."
Welcome Lord Elrond, Master of Radio Rivendell
Could you introduce yourself in three lines?
My name is Anders and I've been the sole operator and owner of Radio Rivendell for twenty (!) years now. I've always enjoyed great music and fantasy music has always been in demand during our gaming sessions back in the day. I have a background as a consultant and software developer and therefore Radio Rivendell was a perfect fit for a spare time project!
What are you doing right now?
Still working as a developer and have my own company on the side where I do webpages and my own personal projects such as Radio Rivendell. I see quite good potential for Radio Rivendell so I'm in the works of reworking the whole site and modernising bits and bobs here and there.
How did you come to Patreon?
I've always been interested in ways to make some money from my small projects and Patreon is a good fit as it's both easy and useful. I've ended up there now and then when supporting other projects and artists, so it was a natural thing to do to enlist myself!
What are your plans/projects for the future, Patreon and otherwise?
I've more or less just created the page on Patreon so I will expand that a lot I think. I just need to sit down and create a plan on what to provide for the patrons, and also plan for great patron content. I hope Radio Rivendell will grow in many directions and Patreon will be a natural part of that.
Would you recommend fellow artists to come to Patreon?
Absolutely, Patreon seems like a great way to get in touch (and keep in touch) with your fans, plus if you are able to get paid by your fans it's even greater! I think I've just started to scratch the surface of what's possible with Patreon for Radio Rivendell and its fans.
[Optional extra question] What does Tolkien mean to you?
I don't remember when I read Lord of the Rings the first time, but I love the books, all of them. So I'd say Tolkien means a lot. He's probably the "father" of the modern fantasy genre and for that I'm very grateful! I love fantasy and the worlds around them, being it magic, dragons, elves, faeries, etc. And thanks to Tolkien we have all Middle-earth, and Rivendell in particular!
Visit Radio Rivendell here on Patreon.
By the way – if you ever felt like listening to Ted Nasmith or The Lonely Mountain Band you'll get to hear them there – and those two most certainly have a connection to JRRT.